I just thought I'd tell you about some of the wonderful books I've been buying and reading lately. Many years ago, when I was working in Africa, a colleague gave me a slow cooker book. I have used this book many times over the past twenty years. About a year ago, I lent it to a friend, who promptly lost it! I forgave her, because she is a good friend, but I missed my book. Imagine my joy a week ago when it turned up at a local charity shop for 30p!
I am so happy to have it back, in fact I think this one is in slightly better condition than the one I lost!
I also bought two books for 99p at another good charity shop.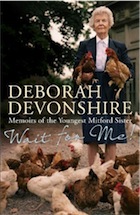 "Wait for Me" is a wonderful autobiography written by Deborah Duchess of Devonshire, in her own words. She is the youngest, and only surviving member of the Mitford sisters, and this autobiography gives a marvellous glimpse into her character and her life.
The other book, which I am currently reading, is "Just a Little Run Around the World" by Rosie Swale Pope. Her husband sadly died of prostate cancer about nine years ago, and in order to highlight the importance of early diagnosis, Rosie decided to literally run around the world, sleeping at night in a tiny bivouac at well-below freezing temperatures.
She is a remarkable lady, very inspiring. She set off, running around the world, from her home in Tenby, on 2nd October, 2003, her 57th birthday. She ran for four and a half years, non-stop, around the world by herself. I am really enjoying reading this.
On my reserve pile I have The Mitford Girls by Mary S. Lovell, which is a biography of the Mitford family. I don't know if I will like this as much as "Wait For Me", as it is not in their own words, but I'm looking forward to reading it.
I haven't watched much TV over Christmas, I have an extremely low boredom threshold when it comes to TV! But I have spent some happy times curled up with these books.