Serves 4; syn free; cooking time 25 mins prep time 20 minutes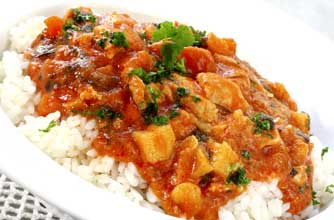 4 skinless chicken breast fillets
Frylight
salt and freshly ground black pepper
2 large shallots, peeled and finely grated
3 garlic cloves, peeled and finely grated
½ tsp crushed cardamom seeds
Serves 4
Syn-Free
Prep Time: 20 mins; Cooking time: 25 mins.
4 skinless chicken breasts
Frylight
Salt and Pepper
2 large shallots, peeled and finely grated
3 garlic cloves, peeled and finely grated
½ tsp crushed cardamom seeds
½ tsp turmeric
1 tbsp tikka masala powder or tandoori spice blend powder
4 tbsp passata
150ml chicken stock
100g fat free natural fromage frais
To serve
Fat free fromage frais
Chopped coriander
lime wedges
1.
Spray the chicken with the low calorie cooking spray and season well. Place under a preheated hot grill and cook for 15-20 minutes, turning once until cooked through. Remove and, when cool, cut into bite-sized pieces. Set aside.
2.
Spray a large non-stick frying pan with low calorie cooking spray and place over a medium heat. Add the shallots and garlic along with the crushed cardamom seeds, turmeric and tikka masala powder. Stir-fry for 1 minute before adding the passata.
3.
Add the chicken and stock and cook for 4-5 minutes, stirring often. Remove from the heat, stir in the fromage frais and season to taste.
Drizzle over fromage frais and coriander. Have with superfree veg of choice
Raita
fat free fromage frais/natural yogurt
sugar free mint sauce or chopped fresh mint (better)
chopped/diced cucumber
mix and serve with poppadum
Another version :-
(plus 12-24 hours marinating time)
Ingredients
For the marinade:
1tbsp tikka masala curry paste
150g low-fat Greek yogurt
2 free-range chicken breasts, each cut into 5-6 large chunks
Pinch of salt
For the sauce:
1 rounded tbsp tikka masala curry paste
1 onion, finely chopped
200g passata / strained tomatoes
200ml tin reduced-fat or light coconut milk
1tbsp low-fat Greek yogurt
A handful of coriander, chopped
For the fragrant rice:
100g basmati rice
Pinch of salt
5 curry leaves
½ tsp black mustard seeds
1 cinnamon stick
Pinch of saffron (optional)
Method
To make the marinade, mix the curry paste, yogurt and chicken together.
Preheat the oven to 220°C/fan 200°C. Drain the chicken a little and place piece by piece, onto a baking tray. Bake for 20 mins or until slightly charred. Set the tikka chicken aside while you make the sauce.
Heat the curry paste in a saucepan. Add the onion and sweat slowly over a low heat for 5-8 mins or until the onion is translucent and soft. Add in the passata and cook for 5 mins, then add in the coconut milk. Bring to the boil, then turn down the heat and add in the tikka chicken. Cook over a low heat for 5 mins or until the chicken is cooked through. Finish by stirring through the yogurt and coriander.
To make the fragrant rice, add the rice and the aromatics to a pan and cover with enough water to come 1cm over the top of the rice. Bring to the boil and simmer for 8 mins, covered. The rice should have absorbed almost all of the water, but still be a bit wet. Remove from the heat and leave to absorb the remaining water for 10 mins, covered. Remove the cinnamon stick before serving with the curry.